There will be an event which is being organsied by Chris Hull Jnr at The Morty Statue on the Weds 26th May @17-45 hours .This to commemorate Mortys 100th birthday .
There will be a short speech by the former Blackpool FC wizard Tony Green and then follow on to the Armfield Club for a celebratory drink and starting at 18-30 hours there will be a short film with some footage of The 1953 FA Cup final and some never seen before pictures of Morty.
Also there will be some Morty posters for sale(attached) and proceeds will be going towards funds to the homeless people in Blackpool.
Also for sale will be a book written by Blackpool Football Clubs historian Gerry Wolstenholme which is about The life and times of Morty .(Details on how to purchase the posters and books will follow)
Hope to see you all support the event and you will also see all the hard work the lads have done at The Armfield Club ,lets give them our support .
#UTMP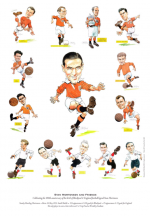 Last edited: