They are now clinging onto some shitty article about atmosphere based on some ratings.
Over 40,000 fans watched Sunderland's Championship return against Coventry City last weekend – but where does the Stadium of Light's atmosphere rank?

www.sunderlandecho.com
Laughable result.
I'll just leave this here, thier own commentators who BTW sit right next to the PNE fans in the away end on their last visit....
Hmmm..
We've even had praise from visiting managers, like the QPR boss and the ex rovers boss Mowbray.
That data is a complete load of bollox.
No doubt Sheffield United can be noisy, however when we went there all you could hear was pool fans the whole game.
Oh I'll just put this here too, but I guess its not on the random website so doesn't count
But of course, now we have a long way to go before we match them apparently
absolutely deluded.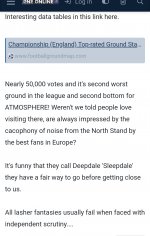 Independent scrutiny.... I suppose we paid the qpr boss and rovers manager, Bournemouth guys, nobber commentators etc etc
absolute mongs.